Film Screening: Fixing the Future
WHEN: Thursday, November 8, 2012 at 7:00 – 10:00 pm
WHERE: Creative Alliance at the Patterson, 3134 Eastern Avenue, Baltimore, MD 21224
TICKETS: $10 Admission
Tickets and info: info@creativealliance.org or 410-276-1651
Tickets can also be purchased at the Creative Alliance front desk in advance: 3134 Eastern Avenue, Baltimore, MD 21224
Join us for a screening of Fixing the Future, a David Brancaccio (NPR, PBS) production about local groups across the country who are working to create a sustainable future. The BNote and BGCA are featured!
We are honored to announce that Edgar S. Cahn, the "father" of time banking, the creator of Time Dollars, founder of TimeBanks USA, and author of several books including "No More Throw Away People: The Co-Production Imperative" will be joining us and will be on hand for our discussion after the film. Mr. Cahn's Time Dollars is just one achievement in a career that, since the early 1960's, has been dedicated to achieving social justice for the disenfranchised. Check out a short clip of Mr. Cahn speaking briefly about money for another upcoming film about the need for creating a new people-centered economy: "Money & Life."
Screening Agenda
7:00 pm tasting demo by Zeke's coffee (featured in the film!) and Clementine, and meet with representatives from local main street businesses and groups working on solutions, including the Baltimore Time Bank, Red Emma's (worker collective), Baltimore Green Works and the Baltimore Green Currency Association.
7:30pm show. Discussion to follow – get your questions answered and find out how to get involved right away in efforts to reclaim our local economy.
About the film
David Brancaccio (of public radio's Marketplace and NOW on PBS) visits people and organizations across America attempting a revolution: reinventing the American economy. Baltimore independent businesses and our local money – the BNote – are highlighted as some of the most effective and innovative approaches being used across the country to create jobs and build local prosperity. Learn more about the film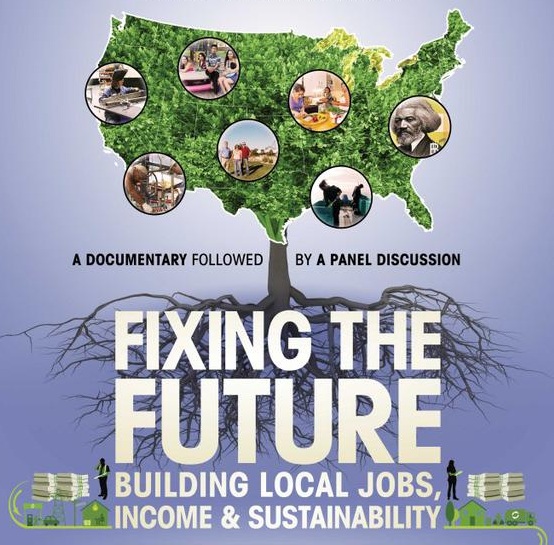 Posted: November 4th, 2012 under Uncategorized.