BNote Officially Launched at Localize It! First Day Circulation Hits BN2470; BNote#1002 Presented to Mayor Rawlings-Blake
The Baltimore Green Currency Association kicked off official BNote exchange yesterday just before Noon at "Localize It!", their joint event with the Baltimore Free Farm. In a street festival atmosphere, amid Free Farm tours and workshops, acoustic music, and a "Chilibrew" chili and beer judging extravaganza, people lined up to exchange their dollars for BNotes as the new currency entered general circulation in Baltimore for the first time.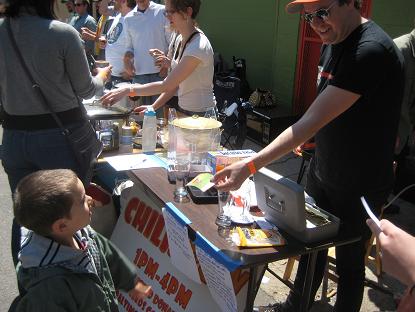 One young Baltimore resident exchanged the coins he had saved up for a BNote, and used it to get himself some chili (above). Jack Arnold of the Baltimore Green Forum was the first to use his BNotes at a retail store, using some of them to make a purchase at breathe books on the Avenue in Hampden. Total circulation at the end of the first day stood at BN2470, exceeding Green Currency planning members' expectations and underscoring the strong support the new currency is receiving from residents and business owners alike.


On Saturday, Baltimore Green Currency Director Jeff Dicken presented Baltimore Mayor Stephanie Rawlings-Blake with one of the first BNotes, serial #1002, at a mayoral press conference in Druid Hill Park. Over 55 local businesses now accept BNotes, and they may be obtained at any of the three active cambio locations in Hampden and Fell's Point.
Posted: April 18th, 2011 under Uncategorized.